Two weeks ago I wouldn't have known what this was about, but a friend of ours is preparing to move to Switzerland and we've been helping out in small ways as we can. His wife and little girls are already gone to stay with her folks and look for a job, and he's left here to go through their belongings, sell furniture, appliances, cars and kayaks and he's quite literally "batching it".
I'd never heard of "Alexa", but he talks to "her" all the time. There's no one else to talk to, and he asks her questions and tells her to play Vivaldi, or check the weather. I was amazed at what good company she was for him. It seems she gives Apple's "Siri" a run for her money.
I can't say I heard Alexa laugh, however, and I'm glad. That's a little twisted.
Amazon says they've taken steps to resolve the glitch but it doesn't sound as simple as they're making it out to be when you read all the social media comments users have left. Some were very spooked by the very nature of the laughter. In my mind's eye, an image of Hitlary comes into focus.
I suppose our new technologies will require some tweaking along the way.  ~ CB
---
Amazon Knows Alexa Devices Are Laughing Spontaneously And It's "Working To Fix It"
They just wanted to turn off the lights. "After the third request, Alexa stopped responding and instead did an evil laugh."
Owners of Amazon Echo devices with the voice-enabled assistant Alexa have been pretty much creeped out of their damn minds recently. People are reporting that the bot sometimes spontaneously starts laughing — which is basically a bloodcurdling nightmare.
Update: Amazon said in a statement to BuzzFeed News on Wednesday afternoon, "In rare circumstances, Alexa can mistakenly hear the phrase 'Alexa, laugh.'"
"We are changing that phrase to be 'Alexa, can you laugh?' which is less likely to have false positives, and we are disabling the short utterance 'Alexa, laugh.' We are also changing Alexa's response from simply laughter to 'Sure, I can laugh,' followed by laughter," the company said.
OK, but what about when Alexa laughs unprompted, as some people have reported?
One person who was on the verge of falling into a peaceful slumber described hearing a "very loud and creepy laugh" from his Echo Dot. "There's a good chance I get murdered tonight," he tweeted.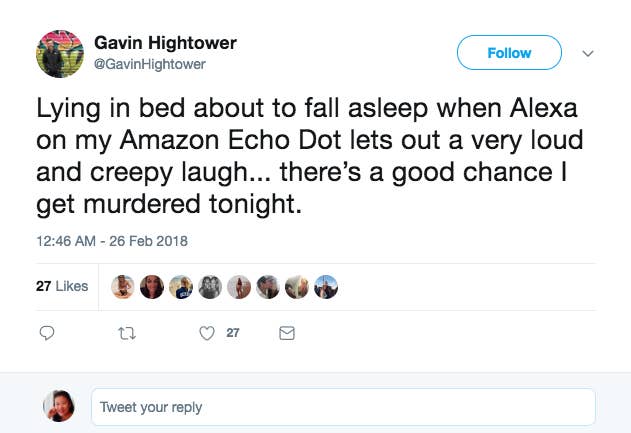 Another said Alexa started laughing while he was having an office conversation. "It was really creepy."